How to guide - Explorance Blue
Explorance Blue is the University of Leeds' system for processing module evaluations. This page explains how Explorance Blue works in practice.
How to log in
When your module evaluation goes live, you will receive an email inviting you to log into the system. This link will be unique to you, so please do not share it.
If your link is not working, or you have lost the email which contains the link, you can go to https://leeds.bluera.com/leeds/ and you will be invited to sign in using your username (for staff, this means using your alphanumeric username e.g. abcxyz1@leeds.ac.uk, and not your email address consisting of initials and surname).
After inputting your username and password you will be prompted to authenticate using Duo two-factor authentication.
What functionality does Explorance Blue offer?
Explorance Blue is a powerful and highly configurable tool. In order to support an easy transition from Enterprise Surveys, at present only basic functions are available. We will be piloting additional features throughout 2022.
All of Explorance Blue's functions are available via your homepage, which will appear as below:
Home- Tasks: This contains your list of modules. If you click on a module to select it, you will see its individual response rates
Home - Reports: After your module evaluations have closed you will be able to access a PDF report showing the results via the 'Reports' section on your Blue homepage. This report will contain the scores from core questions, and any open text comments. As with previous systems, students will not be identified.   
Home – Subject Management: You can click on the Subject Management button (next to 'My Home' on the upper left side of the page) to see a grid-format view of your module evaluations, including their individual response rates.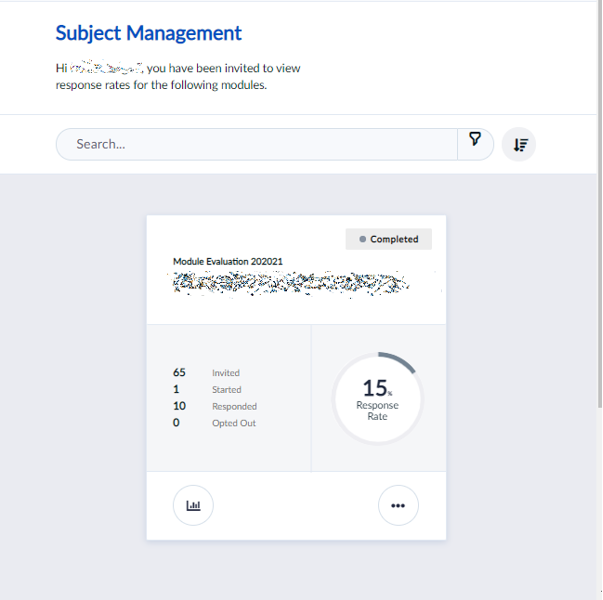 Response Rate: Once your module evaluations are live, you will receive an email inviting you to view your response rates. As noted above, you can view individual response rates using the Tasks list or Subject Management button. You can also look at these in 'Response Rates' (select button on the left-hand side of the page). This will display:
Graphs showing overall response rates across all your modules
A table with response statistics for all your modules
Response analytics, including progression details, peak hours, and peak days
You can apply various filters to this page to tailor your view 
I run a module which is non-standard/ has additional requirements – who can I speak to about accommodating these?
Explorance Blue is a flexible and highly configurable system that can accommodate non-standard modules with relative ease. Please contact TheLeedsPartnership@leeds.ac.uk as your first port of call. We will then collaborate with your School's Data Integration Gateway Administrator(s) and will do our best to help.
How do students use Explorance Blue?
Students log in to Blue in the same way as staff, by going to https://leeds.bluera.com/leeds/.
When students have evaluations to complete they will be directed via an individualised link to a page with all their open evaluations listed on it. It looks like the image below. If they navigate to their homepage, the list of modules they have been asked to evaluate will appear under 'Tasks'.
Students can review the answers to thier surveys after they have submitted these, so long as it is within the module evaluation window.
Guidance has been provided to students on how to make best use of module evaluations.
Modules with Merged Codes on Minerva
Explorance Blue uses a module's CRN number to identify it – so if you have a module that 'merged' on Minerva, it may appear in Explorance Blue as two seperate modules or reports.
Questions and troubleshooting
If you have any questions, or you are having problems with accessing or using Blue, please contact TheLeedsPartnership@leeds.ac.uk, and we will be able to advise you.
Additional Resources
Guides from Explorance Blue:
Module Leaders can look at the Instructor Guide. Note that we currently do not offer the option to personalise your questions.
Data Integration Gateway Admins can look at the Course coordinator guide